Tankpak Series 2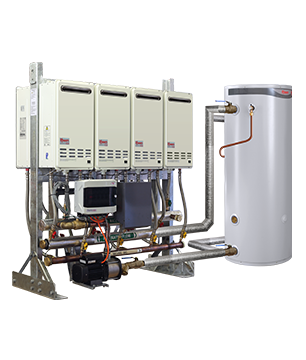 Pre-plumbed on a frame, Tankpak Series 2 combines the benefits of mains pressure and continuous flow water heating. Select from 2-18 commercial continuous flow units with 1 to 3 storage tanks depending on the system size.
Systems are available in a variety of mounting configurations, model dependent, including wall, floor or back to back (and internal or external)
Tankpak Series 2 is supplied with the controller and pump factory assembled. The Tankpak series 2 also includes in line strainer and water heater power sockets. Systems including up to 7 CFWH are supplied with plug and lead. Larger systems require a single hard wired connection by an electrician.
The assembly is also certified for crane lifting.
Plumbing is supplied right handed but can be field altered for left hand to suit your installation requirements.
TPI = Internal TPE = External
Tankpak Series 2
Download brochure