Mains Pressure Vitreous Enamel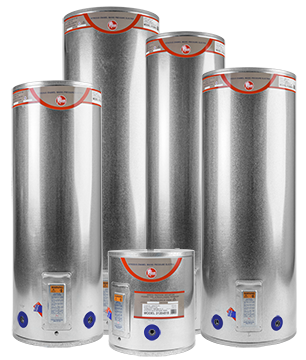 Vitreous Enamel lined hot water cylinders provide the best corrosion resistance to a wide range of water conditions including varying pH levels, high chlorides, hard water and MIC (Microbiological Induced Corrosion) as found in parts of the country and areas with untreated bore water. This range continues to be popular in the hot water storage market and superior durability in all water conditions.
Features
All Vitreous Enamel (VE) water heaters are fitted with a sacrificial zinc/magnesium anode to provide additional corrosion protection to the cylinder in adverse water conditions
Twin and dual element models available
Also suitable for unequal pressure and low pressure uses
10 year cylinder warranty*
Sustainability Facts
All VE water heaters meet or exceed the NZ MEPS (Minimum Energy Performance Standards).
The water heaters have recyclable galvanised steel jackets (outer casing) and steel (inner) tanks, as well as recyclable valves. Recyclable cardboard packaging is used

only on the top rim of the water heater, meaning there is no unnecessary waste.
High quality Solstice ZD insulation allows the optimum water temperature to be maintained longer, which results in reduced energy usage and lower costs. Solstice ZD also has very low GWP (Global Warming Potential) and zero ozone-depleting properties.
* The specified cylinder residential warranty period and the commercial warranty period are for VE products manufactured after 1 June 2018.
Download brochure