Power Your Home with Rheem Solar Energy
With a Rheem solar energy solution you can revolutionise your home or business and save money on energy bills.
Why Go Solar with Rheem

Save Money
Going solar with Rheem means saving money on your monthly electricity bills – once your system is installed you'll be able to benefit from lower ongoing costs compared to traditional grid supplied electricity sources.

Self-Reliant on Power
With a Rheem solar solution you'll become self-reliant on your own power supply and you'll be less exposed to price increases of traditional electricity sources - peace of mind and financial security for months and years ahead!

Great for the Planet
Using renewable energy sources like solar is not only good for your wallet but it's better for the environment too! Renewable energy emits virtually zero emissions into the atmosphere reducing your carbon footprint!
How Much Will Solar Cost?
Small home
Low usage, up to 2 people
3.2kW
System & Installation
Family home
Medium usage, up to 4 people
5.6kW
System & Installation
Large home
High usage, over 4 people
11.2kW
System & Installation
The Right Solar Components for Home or Business
Solar Panels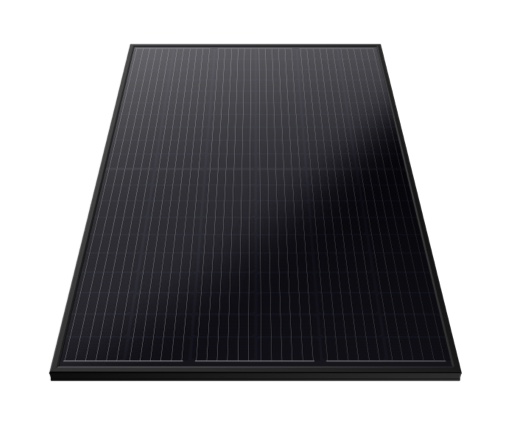 Next Gen Solar Power Panels
It all starts with our solar panels. These are made up of photovoltaic (PV) cells, which efficiently collect light from the sun and convert it into DC current.
Rheem's solar panels come in a variety of sizes and styles to fit any energy needs. Our high-efficiency photovoltaic cells are built to withstand the elements, providing reliable performance for years to come.
Inverters
Battery Storage
Racking System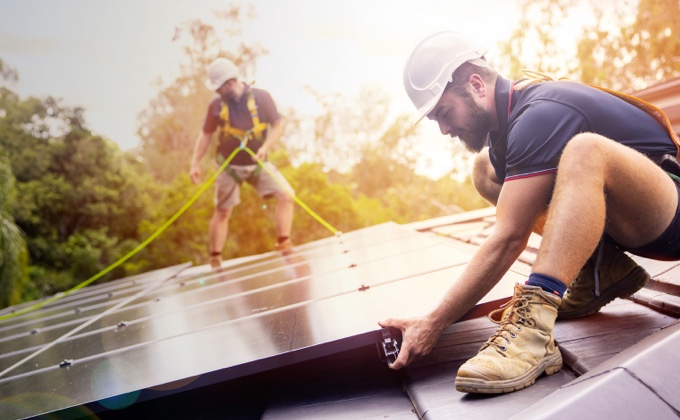 Tailored Solutions to Suit Your Needs
At Rheem, we offer tailored solar energy solutions that are designed to meet your specific needs.
Whether you're looking for a system for your home or business, we have a solution that's right for you. Our experienced team will work with you to design a system that fits your lifestyle, budget and energy requirements.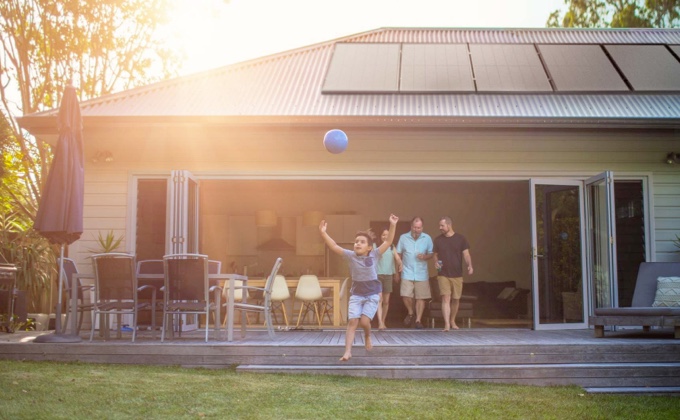 Experience the Benefits of Solar Energy
With Rheem's solar energy solutions, you can enjoy the many benefits of solar power. From reducing your energy bills to helping you become more self-sufficient, solar energy is a great way to make your home or business more efficient and sustainable.
Take advantage of the sun's energy today and experience the benefits of solar energy with Rheem.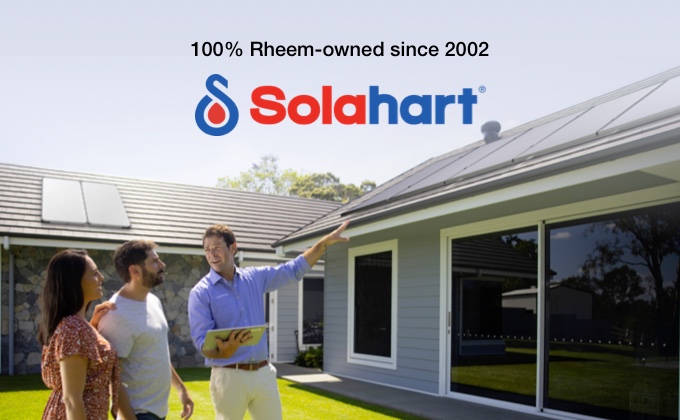 Trust Rheem and Solahart for Hot Water and Energy Solutions
Rheem's solar energy solutions come from our amazing subsidiary business, Solahart – together we've supplied over a million solar energy solutions across the globe and continue to be at the forefront of solar technology developments for home and business.
So, if you're looking for a way to reduce your carbon footprint, while saving on energy bills, then talk to Rheem about solar today.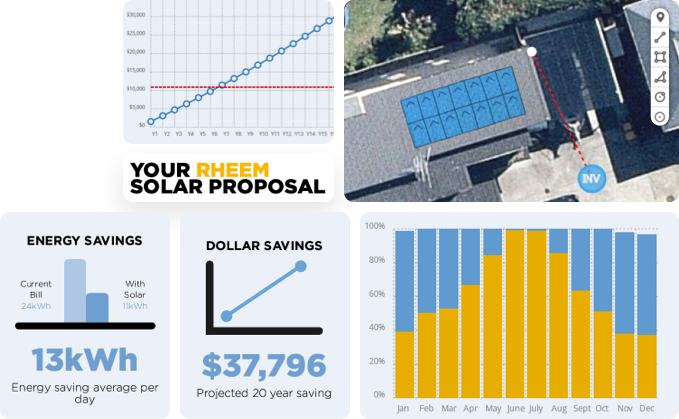 A Comprehensive Quote from Rheem will show you the way to…
Your system details and itemised costs

Proposed solar panel layout on your home

Solar generation and energy use throughout the year

And your estimated energy savings
Download Example Quote ›
Let Rheem Take Care of Everything
Expert Advice — Quality Solar Products — Full Installation
Provide us with a few details about your home or building and we can supply a comprehensive Solar Energy estimate to suit your environment, energy requirements and budget.